The criminal justice reform bills approved by the Oklahoma Legislature last week don't go as far as reformers would have liked. Yet they appear headed to Gov. Mary Fallin's desk, and Republican leadership is interested in continuing down this road. This is progress worth celebrating.
Last year, five bills resulting from the governor's task force on criminal justice got bottled up by a Republican committee chairman who made it a practice during his time in the Legislature to oppose just about every reform idea that was presented to House members. Those five bills eventually wound up in a conference committee and they didn't emerge before the 2017 session ended, despite pleas from Fallin and others to put them up for a vote.
That member left the Legislature last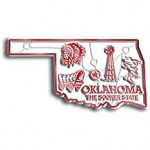 year, providing reformers with hope that something might happen in 2018. Some heartburn returned when the bills sat idle for several weeks, but last week the Senate approved the five bills and the House approved two others in moves applauded by leaders in each chamber.
For too many years, GOP members have shied away from criminal justice reform for fear of being labeled "soft on crime." But more and more, they are coming to understand that these are attempts to be "smart on crime" and provide some relief to the state's aging prisons, which are filled beyond capacity and on track to stay that way.
Without changes to the status quo, it's been projected that Oklahoma's prison population, now at about 27,000, will grow by roughly 8,700 by the year 2026. Approval of the task force bills in their original form was expected to produce a slight reduction in the prison population over the next decade. It's anticipated the prison population will continue to grow under the amended bills, but at a far slower rate than it is today. That's a victory.
The seven pieces of legislation are all as sensible as they are overdue. House Bill 2281, for example, would adjust penalties for several low-level offenses such as larceny and forgery. It also would create a tiered structure for property crimes, with those involving items valued at less than $1,000 becoming misdemeanors. It's expected this will help lower the female incarceration rate, which has been No. 1 nationally for 25 years.
Another example is Senate Bill 793, which eliminates the life-without-parole option for drug possession with intent to distribute, distribution, manufacturing and trafficking, and gets rid of most of the law's mandatory-minimum sentences. SB 689, meanwhile, would give courts the chance to reduce life-without-parole sentences in some cases, and modifies the lengthy sentences related to drug trafficking.
And, more changes may be in store. Sen. Greg Treat, R-Oklahoma City, the next leader of the Senate, says he hopes to work with district attorneys and others between now and the 2019 session.
© Humane Exposures / Susan Madden Lankford