Archive for Homeless Veterans
Memorial Day is over. The flood of stories and social media posts supporting the troops has subsided and for most people it is an ordinary Tuesday back at work. A lot of the veterans we paid homage to yesterday spent last night on the streets, and a growing percentage of them were female veterans.
Rosanne Haggerty, president of Community Solutions, recently noted the disturbing number of veterans "living rough" in the wake of serving our country (via The New York Times):
Right now, on any given night, roughly 68,000 veterans are homeless in the United States. Within that number, a group of at least 14,000 have been homeless for a year or more and suffer from at least one chronic — and costly to treat — health condition. These long-term, chronically homeless veterans typically don't make it off the streets without specific, targeted help.
When you take into account the changing gender ratio of our military forces, these numbers become even more disquieting.
Annie Gowan of The Washington Post brings us the current statistics:
Officially, homeless female veterans number 3,328, a figure that doubled from 2006 to 2010, according to an estimate from the Government Accountability Office. The GAO says the data are incomplete and that the number is probably higher. Many of these homeless women are mothers, middle-aged or suffering from a disability.
Unfortunately there does not seem to be available data at this point on how many of those female veterans have children along with them.
The VA acknowledged in the report that there was an "acute" need to improve services for the growing number of female veterans. They are more likely to be diagnosed with mental health problems and to have suffered sexual trauma during their military service and have a greater risk of homelessness than their male counterparts, the report said.
Although the overall statistics on veteran homelessness show a steady reduction over the past few years, Gowan points out that the number of homeless women veterans is sharply rising.
On the bright side, we are slowly seeing awareness of the problem spread, and in some places solutions are actively being sought. In Fairfax, one organization is making strides in combating this exact issue.
Final Salute was founded by Jas Boothe, an Army National Guard captain. Not only did she serve our country, but she also lost everything in Hurricane Katrina, and was diagnosed with cancer in addition to becoming homeless herself. Eventually she was able to pull out of the nosedive and is remarried with a baby and a career as a human resources officer for the National Guard. Once she was back on her feet, she decided that her priority was to give back and help those who have suffered similar trials.
The result is a program that focuses on the needs of female veterans. The shelter can house a maximum of eight women and children at any given time, and residents have two years in which to get back on their feet.
In order to be admitted to the shelter, residents must commit to job training and, if they find work, contribute 20 percent of their income toward food and utilities. Final Salute currently has a waiting list of 20.
Granted that eight at a time is hardly a number that will dent the fearsome statistics we are facing, it is still a fantastic template for future efforts.
It is only the first step. We must take many more if we are to defeat this great enemy facing our soldiers.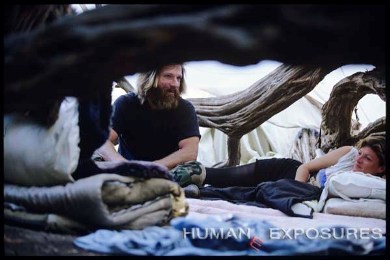 Here at HUMANE EXPOSURES, we believe in the power of the Internet to inform and mobilize people. This is one of the reasons that this blog exists.
Since we have just launched our new Facebook pages, we thought this would be a good time to share some of the groups and organizations on Facebook that also champion the cause of those discarded by society.
So, here, in no particular order, is a list of Facebook pages that you may find informative. Please visit them. (And, if you like our work, we would really appreciate it if you "Like" our new pages and help them start off on the right foot.)
We're going to list our own new pages first and move on from there:
The following is a list of other resources. All descriptions are quoted directly:
So there you have it, please let us know if you would like to see more roundups of this nature. If so, we could make it a regular feature.
Source: Facebook.
Image copyright Susan Madden Lankford, from the book "downTown USA: A Personal Journey with the Homeless." Used with permission.
Visit Us on Facebook: Humane Exposures Publishing, downTownUSA, Maggots in My Sweet Potatoes, It's More Expensive To Do Nothing.
Category:
California
,
Criminal Justice
,
downTown U.S.A.
,
Facebook
,
Homeless Veterans
,
Homelessness
,
Humane Exposures
,
It's More Expensive to Do Nothing
,
Juvenile Justice
,
Maggots in My Sweet Potatoes
,
Photography
,
Poverty
,
Prison
,
San Diego
,
Women's Issues
| Tags:
Breaking Night
,
downTownUSA
,
Facebook
,
Feeding Pets of the Homeless
,
Healthcare for The Homeless
,
homeless
,
homelessness
,
Horizons for Homeless Children
,
Humane Exposures
,
Humane Exposures Publishing
,
InvisiblePeople.tv
,
It's More Expensive To Do Nothing
,
Liz Murray
,
Maggots in my Sweet Potatoes
,
National Coalition for Homeless Veterans
,
NCHV
,
nonprofit
,
PATH
,
People Assisting The Homeless
,
Prison
,
prison photography
,
Real Change Homelessness Empowerment Project
,
Susan Madden Lankford
,
The National Coalition for The Homeless
Put on by the Greater Minnesota Housing Fund (GMHF), a photography show called "Portraits of Home II: Veterans in Search of Shelter in Greater Minnesota" uses art and documentation to put human faces to the tragedy of our street population. The attitude and the ethical concepts behind the exhibit are stated on the GMHF website:
Art, especially photography, can be a powerful tool for increasing public awareness of the affordable housing crisis facing people in Greater Minnesota. Photographs personalize the human impacts of poor housing conditions and homelessness. They capture the dignity and resiliency of people managing everyday life with few resources and the positive changes that can occur with stable housing. Greater Minnesota Housing Fund is making this compelling exhibit available to local communities throughout 2009 and 2010 in order to touch the hearts and minds of policymakers, local leaders and residents, and to inform these stakeholders of the specific actions they can take to address the housing challenges faced by a growing number of Minnesota families.
The show seems to be doing a good job of generating discussion of the issue. Currently at Winona State University, it was written up in the Winona Daily News:
Ruth Charles, a WSU professor, helped coordinate the event. She hopes the exhibit serves as 'a piece of education' and 'makes the connection' to viewers that all too often troops are not supported when they return home.

The photos capture an 'incredibly important piece of history,' especially right now, as 'we'll have a tsunami of veterans coming back to the states' from Iraq and Afghanistan, said Stormi Greener, a freelance photographer whose work is on display in the exhibit.

One veteran whose photo appears in Minne Hall was deployed to Iraq for 22 months, during which time the house he had been living in was sold. Photographer Brian Lesteberg captures the veteran sitting in the open trunk of his car, where he has been living for more than three months.
We obviously believe in the power of art, image and narrative as catalysts for change. Just take a look at our published offerings. It is said that "a picture is worth a thousand words," and, in cases like these, we'd say that it's certainly true. You can quote the dismal statistics of the situation, or you can show someone a picture of a child living on the streets. All too often, it's the image that catches people's attention first, and that's why shows like this one are vitally important.
Take a look at Susan Madden Lankford's downTown USA: A Personal Journey with The Homeless, or Deborah Luster's "One Big Self" to see how much humanity can be communicated by a simple photograph. And, really, that is what is so often absent — simple humanity. While walking past a homeless person in the street, most people have trained themselves to look away, but that same reflex does not occur when they're looking at photos. We would wager that viewing photos like this provides the first in-depth perception of homelessness for more than a few people.
Source: "Portraits of Home II," Greater Minnesota Housing Fund, undated
Source: "WSU photo exhibit shines a light on homeless veterans," Winona Daily News, 09/17/10
Image by NAME, used under its Creative Commons license
Visit Us on Facebook: Humane Exposures Publishing , downTownUSA, Maggots in My Sweet Potatoes, It's More Expensive To Do Nothing
Category:
downTown U.S.A.
,
Events
,
Homeless Veterans
,
Homelessness
,
Humane Exposures
,
Photography
| Tags:
Deborah Luster
,
downTown: USA
,
GMHF
,
Greater Minnesota
,
Greater Minnesota Housing Fund
,
homeless
,
homeless veterans
,
homelessness
,
housing crisis
,
One Big Self
,
ortraits of Home II: Veterans in Search of Shelter in Greater Minnesota
,
photography
,
photography exhibit
,
photography show
,
Ruth Charles
,
shelter
,
Susan Madden Lankford
,
Winona Daily News
,
Winona State University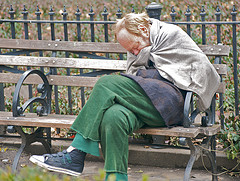 As you walk through the streets of San Diego, or any other American city, you will see the homeless. People living rough in the urban landscape. Each one is somebody's brother, mother, son, cousin, or spouse. In addition, many of them had fought for our country.
Dylan Mann, a contributor to Voice of San Diego, says it well:
You see them in the medians at intersections and at the bottom of freeway off-ramps. Suntanned and weary in camouflage pants, they hold magic-markered signs announcing: 'HOMELESS VET — ANYTHING HELPS — GOD BLESS.' And you feel empathy for them, don't you? No matter what you think of our nation's military campaigns, it's undeniable that here before you is a person that once served our country, but now he sleeps outside and isn't sure when he'll eat next.

Because of good weather and a high cost of living, San Diego has a lot of homeless people. There are 8,500 homeless people [PDF] in the county and 35 percent of them (3,000) are veterans. The relatively high proportion of veterans among San Diego's homeless is probably due to our proximity to military bases.
Among the homeless nationwide, veterans comprise 20-25%. Now, it is no secret that the strain of combat can create a wide variety of mental ailments. From "shell shock," to "battle fatigue," to post-traumatic stress disorder (PTSD) — the name has changed repeatedly while the ailment itself has remained a constant backbeat to our international conflicts. Is this the prime cause behind the number of veterans on the streets? Maybe not. Mann continues:
But, according to the National Coalition for Homeless Veterans, only a third of homeless veterans were ever stationed in a combat zone. So, why are the other two-thirds on the streets? Unfortunately, nobody knows for sure.
While there may not be certainty about the cause, there are at least some possibilities:
The Rosenheck-Fontana study of Vietnam veterans shows various correlations, but its takeaways are not entirely clear. The study's major finding was that if upon returning to civilian life, veterans had low levels of social support, non-PTSD psychological disorders, substance abuse, or were unmarried, they were significantly more likely than their peers to be homeless.
The factors should look familiar if you have been following our work. They are circumstances that crop up repeatedly in our examination of homelessness and other social justice issues. Likewise, Mann cites additional factors that are, again, familiar to us from our prior research:
Additionally, it identified several factors that predisposed soldiers to homelessness. If vets had been foster children or had significant childhood trauma (e.g. physical, sexual, etc.) before entering the military, they were more likely to be homeless, whether or not they saw combat while in the service. These results could suggest that strong emotional development in childhood is necessary for soldiers to reintegrate into civilian society. Alternatively, they might mean that troubled youth are more likely than their peers to join the military. But, in the end, we can't definitively say why so many non-combat veterans end up being homeless. The more important question, of course, is 'How do we get them off the streets and back to normal, productive lives?'
And that, indeed, is the crux of the matter — how to reintegrate these people into the everyday society they have left behind? Switching our emphasis from retribution to rehabilitation is one approach that seems to consistently yield greater and more lasting results when encountered in practice. Mann spends almost half of his column on examining the Veterans Village of San Diego (VVSD). It seems like a very interesting project, one of the few that works in conjunction with — rather than in opposition to — the Veterans Administration.  Just click the link under the Sources (below) to read more.
Source: "Why So Many Homeless Vets in San Diego?," San Diego Voice, 08/25/10
Image by Ed Yourdon, used under its Creative Commons license.

Visit Us on Facebook: Humane Exposures Publishing , downTownUSA, Maggots in My Sweet Potatoes, It's More Expensive To Do Nothing
Category:
Homeless Veterans
,
Homelessness
,
Humane Exposures
| Tags:
Dylan Mann
,
homeless
,
homeless veterans
,
homeless vets
,
homelessness
,
National Coalition for Homeless Veterans
,
post-traumatic stress disorder
,
PTSD
,
San Diego
,
San Diego homeless
,
the military
,
Veterans Administration
,
Veterans Village of San Diego
,
Vietnam veterans
,
Voice of San Diego
,
VVSD