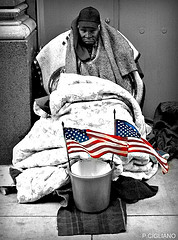 San Diego's yearly Stand Down event just passed recently, hosted by one of the oldest and most well-known programs to help homeless veterans. In case you're not familiar with it, The Veterans Village of San Diego website describes the program as follows:
In times of war, exhausted combat units requiring time to rest and recover were removed from the battlefields to a place of relative security and safety. Today, Stand Down refers to a community-based intervention program designed to help the nation's estimated 200,000 homeless veterans 'combat' life on the streets.

VVSD organized the nation's first Stand Down in 1988. Since then, the program has been widely replicated nationwide. Today, more than 200 Stand Downs take place across the country every year. 'The program has become recognized as the most valuable outreach tool to help homeless veterans in the nation today,' according to the National Coalition for Homeless Veterans.
This video report from The New York Times YouTube Channel provides an inside view of the 2009 Stand Down. Among other things, it looks at the growing and disturbing new demographic, homeless veteran women:
A stand down provides a number of basic services that are lacking in life on the streets: showers, haircuts, medical and dental attention, benefits assistance, counseling, 12-step meetings, and more. Some of these things, like the simple old-fashioned shower, we take for granted, yet having them makes all the difference in the world for those who lack them. How can you find a job and pull yourself up if you cannot even get clean enough for an interview?
While we cannot embed it in this post, the full 60 Minutes report is available online. You can watch it here.
When looking at social programs like this, we need to remember that many of these people simply need a hand up, not a handout. The investment in our community returns manyfold in both tangible and intangible ways. This is why we always talk about our stance on this subject being a bipartisan win-win scenario. From the conservative perspective, rehabilitating the homeless back into society makes sound financial sense — as it will reduce the overall cost to the system over the long term.
From the liberal perspective, the socially conscious angle is the one that is of most importance. The vital thing is to note that despite the differences in how they reach that conclusion, both sides of the political equation should find it easy to see that it is, indeed, more expensive to do nothing!
Source: "WATCH: Can Three Days Make A Difference For Homeless Veterans?," The Huffington Post, 10/17/10
Source: "Homeless Vets: Does Anyone Care?," CBS News, 10/17/10
Image by NYCUrbanscape, used under its Creative Commons license.
Visit Us on Facebook: Humane Exposures Publishing , downTownUSA, Maggots in My Sweet Potatoes, It's More Expensive To Do Nothing