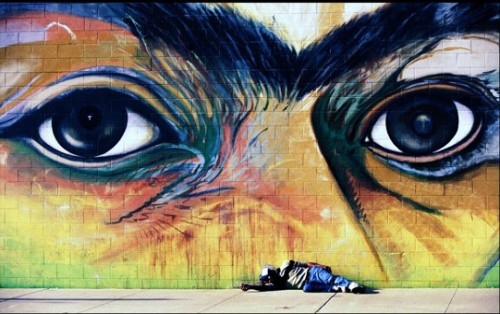 Not too long ago, Tampa, FL—which had the most homeless people for a mid-sized city—passed an ordinance allowing police officers to arrest anyone they saw sleeping or storing personal property in public, and it followed that up with a ban on panhandling downtown and in other locations around the city.
Philadelphia banned feeding homeless people on city parkland. Columbia, SC ordered the homeless the choice to either relocate or get arrested. Los Angeles spent $6 million in a year for 50 extra police to make 201 arrests of Skid Row homeless people for "crimes" like jaywalking and loitering. That money could have housed 225 people.
St. Petersburg, FL outlawed downtown panhandling, sleeping in numerous outdoor locations and storing personal belongings on public property. Orlando prohibited groups from sharing food with 25 or more people in downtown parks, and although the law was found unconstitutional, Orlando appealed the decision.
A 2009 study, Homes Not Handcuffs: The Criminalization of Homelessness in U.S. Cities, conducted by the National Law Center on Homelessness & Poverty and the National Coalition for the Homeless, found that of 235 cities: 33% prohibit "camping" in particular public places and 17% have citywide prohibitions on "camping"; 30% prohibit sitting/lying in certain public places; 47% prohibit loitering in particular public areas and 19% prohibit loitering citywide; 47% prohibit begging in particular public places; and 23% have citywide prohibitions on begging.
The trend of criminalizing homelessness continues to grow. In the 224 cities included in the study's prohibited-conduct charts there was a 7% increase in laws prohibiting "camping" in particular public places, an 11% increase in laws prohibiting loitering in particular public places and a 6% increase in laws prohibiting begging in particular public places.
In 2009, the U.S. Congress passed and President Obama signed The Helping Families Save Their Homes Act, which requires the federal Interagency Council on Homelessness to devise constructive alternatives to criminalization measures that can be used by cities around the country.
Homeless criminalization measures can be counterproductive in many ways. Police sweeps of city areas to drive homeless people from their living areas frequently result in the destruction of individuals' personal property, such as important documents and medication, and they frequently move people away from services. When homeless persons are arrested and charged under cruel ordinances, they may develop a criminal record, making it more difficult to obtain the employment and/or housing that could help them become self-sufficient.
Courts have found certain criminalization measures to be unconstitutional. For example, when a city passes a law that places too many restrictions on begging, such restrictions may raise free speech concerns, as courts have found begging to be protected speech under the First Amendment. When a city destroys homeless persons' belongings, such actions may violate the Fourth Amendment right to freedom from unreasonable searches and seizures.
When a city enforces a law that imposes criminal penalties on a homeless person for engaging in necessary life activities, such as sleeping in public, such a law may violate that person's Eighth Amendment right to be free from cruel and unusual punishment, if the person has nowhere else to perform the activity.
When a city passes a law that does not give people sufficient notice of what types of conduct it prohibits, or allows for arbitrary enforcement by police, such a law can be determined to be overly vague in violation of the Constitution. Courts have found certain loitering and vagrancy laws to be unconstitutionally vague. In addition to violating domestic law, criminalization measures can also violate international human rights law.
Instead of criminalizing homelessness, local governments, business groups and law enforcement officials should work with homeless people, providers and advocates for solutions to prevent and end homelessness. Cities should dedicate more resources to creating more affordable housing, permanent supportive housing, emergency shelters and homeless services in general. To address street homelessness, cities should adopt or dedicate more resources to outreach programs, emergency shelters and permanent supportive housing.

Instead of advocating for criminalization measures, business groups can put resources into solutions to homelessness. When cities work with homeless persons and advocate for solutions to homelessness, instead of punishing those who are homeless or poor, everyone benefits.
Some cities and states do offer constructive alternatives to criminalization. Since 2005, Utah has been saving jail and other costs by giving homeless people flats with zero strings attached, along with social workers to help them secure employment and job skills, so that they can eventually become self-sufficient. If the newly housed people don't become independent right away, they still keep the rent-free apartment.
As a result of this approach, Utah dropped its homelessness rate by 78%, got 2,000 people off the streets and should have a roof over everyone's head by next year. Since Casper, WY saw its homeless population increase twofold in three years, it is now looking to start a program based on Utah's.
Nation of Change points out:
Republicans in Congress would probably have required the homeless to take a drug test before getting an apartment, denied apartments to homeless people with criminal records and evicted those who failed to become self-sufficient after five years or so, but Utah's results show that even conservative states can solve problems like homelessness with decidedly progressive solutions.
Other constructive approaches:
In order to reduce the need for panhandling, a coalition of service providers, business groups and the City of Daytona Beach, FL began The Downtown Team program that provides homeless participants with jobs and housing. While in the program, participants are hired to clean up downtown Daytona Beach and are provided initially with shelter and subsequently with transitional housing. A number of participants have moved on from the program to other full-time jobs and housing.
Cleveland, OH. Instead of passing a law to restrict groups that share food with homeless persons, Cleveland has contracted with the Northeast Ohio Coalition for the Homeless to coordinate outreach agencies and food sharing groups to prevent duplication of food provision, to create a more orderly food-sharing system and to provide an indoor food-sharing site to groups that wish to use it.
Portland, OR. As part of its 10-year plan, Portland began "A Key Not a Card," where outreach workers from five different service providers are able to immediately offer people living on the street permanent housing rather than just a business card. From the program's inception in 2005 through Spring 2009, 936 individuals in 451 households have been housed through the program, including216 households placed directly from the street.