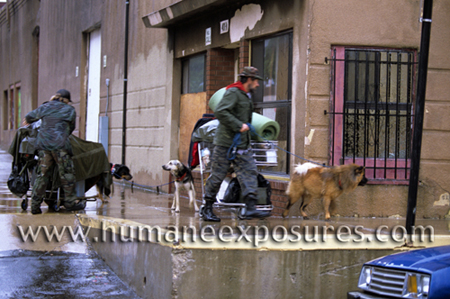 Many do not realize it, but a disproportionate number of the homeless faces one sees on American streets are military service veterans. After serving their term, many former members of the military find themselves amongst the dispossessed of our nation, lost in the very society they had defended.
In an attempt to take care of these homeless soldiers, Housing and Urban Development (HUD) has announced $15 million in grants for five cities, including San Diego. The money is earmarked for development of permanent housing for homeless veterans. Camp Pendleton in San Diego is one of the five. The others are: MacDill Air Force Base (Tampa, Florida), Fort Hood (Killeen, Texas), Fort Drum (Watertown, New York), and Joint Base Lewis-McChord (Tacoma, Washington).
HUD states that veteran homelessness has been on the rise due to the escalation of conflicts in the Middle East. Kimberly Dvorak, who covers San Diego County Political Buzz for Examiner.com, notes that each of these communities will receive two million to combat veteran homelessness.  She then goes on to tell us a bit more more about the program:
HUD also announced that the VA medical centers will also receive $1 million in grant money for other veteran needs. The Veterans Homelessness Prevention Demonstration (VHPD) program, through HUD, can provide a 'continuums of care' for needy veterans who might be living on the streets or in homeless shelters.

'The men and women who serve our nation deserve better than a life on the streets when they return home,'  said HUD Secretary Shaun Donovan. 'These grants represent a first step toward designing the best interventions possible so that we can prevent homelessness for those heroes who sacrificed so much for us.'
The effort will focus on a triad of homeless issues: housing, health care, and employment services. The last of these are handled through the U.S. Department of Labor. HUD estimates it will take approximately 90 days to identify which veterans and their families are in need, and to render assistance.
More housing seems a great idea, doesn't it? Still, HUMANE EXPOSURES has discovered that many of the homeless refuse to live inside shelters. Many are addicted to controlled substances and need treatment before they can be accepted into shelters. Others need mental health treatment, including medications, before they would feel comfortable in a shelter environment. Others prefer life on the street.
To quote from interviews conducted by Susan Madden Lankford for the book, downTown U.S.A.: A Personal Journey with the Homeless: "I can't live with 400 people around me," "I can't follow the rules and regulations required inside shelters," "Something is wrong with me, I do better on the street that I do inside," "I want to sleep on the pavement."
Shelters are part of a solution; treatment is a more holistic approach: providing homeless veterans the support to come off the streets if they choose, including proper intake, case analysis, and referrals. There is only one continuum of care; the fact that HUD sees multiple "continuums of care" means it still isn't treating the whole problem.
Source: "Homeless veterans in 5 cities will get relief housing," Examiner.com, 07/28/10
Source: Downtown USA: A Personal Journey with the Homeless.
Image by Humane Exposures Publishing, copyright retained; used with permission.
Visit Us on Facebook: Humane Exposures Publishing , downTownUSA, Maggots in My Sweet Potatoes, It's More Expensive To Do Nothing