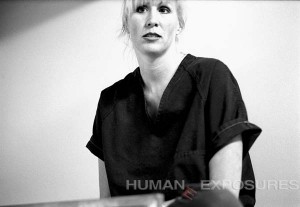 After incarceration, women face different problems than men do. They usually have extensive histories of drug use , are likely to be clinically depressed, tend to have low self esteem and have fewer job skills. These factors lead to their being more likely than men to be homeless and to have problems with intimate partners. The process of post-release reunification of mothers with their children can be a unique reentry challenge, along with the need to earn a living while resuming childcare responsibilities.
A comprehensive study of female inmates released in Texas showed that women who do time in that state's prisons and jails usually have extensive histories of criminal justice involvement, with several prior convictions but few previous stays in state correctional facilities. They are typically incarcerated for low-level property or drug possession offenses, and are likely to have serious and long-term substance use problems. These issues often co-occur with depression and other mental health problems. In the study, 83 percent reported illegal drug use in the six months before prison, and 30 percent reported heavy drug use. Before incarceration the average length of drug use was seven years, with almost 40 percent having used for 10 years or more.
Upon returning home, women experienced more conflict with family members and intimate partners. The goal of finding and retaining a job during the first several months following release remained elusive for the majority of women. They were much less likely to have received job training or to have gained vocational skills while behind bars and were less apt to take part in job placement services upon release. Women exiting prison reported more difficulties meeting their day-to-day financial needs and they experienced more residential instability than did men.
The study reported:
At one year out, women are more likely than men to have problems stemming from drug use and to have partners who drink or use drugs daily. Women are almost twice as likely as men to be back behind bars in a year's time, typically due to a drug-related offense or a property offense driven by addiction problems.
The vast majority (96 percent) of all women exiting Texas prisons and jails were serving time for nonviolent offenses: 47 percent for drug possession, 18 percent for drug sales or manufacturing, 23 percent for property offenses and fewer than 10 percent for a parole or probation violation.
Twenty-six percent were offered transitional services only in their last week of incarceration. These pre-release programs covered such topics as how to: access alcohol and drug treatment, seek employment, continue education, find a place to live and obtain photo identification. Many released women expressed a need for greater help with housing, education and substance abuse treatment.
The immediate challenges women faced upon release included obtaining housing and adequate financial support, finding gainful employment, achieving independence and providing for their families.
By eight to 10 months out, 31 percent had lived with another formerly incarcerated person, 19 percent were living with someone who was abusing drugs and 22 percent resided with an alcohol abuser. Twenty-three percent reported that her criminal record had been an obstacle to finding housing at some point since release.
Women experienced tremendous difficulties in obtaining legal employment during the year after release. While 58 percent had worked before prison, only 36 percent were working at two to four months following their release
Both before and after incarceration, women had lower rates of employment and lower hourly wages than men and were more likely to work in food service or retail sectors. For many women, only part-time work was available.
Women with a school diploma or GED, those who had been employed in the six months prior to prison and those who took part in pre-release programs worked more often in the months following their release. Those who were married or living as married before prison worked more than those who were not. Abstinence from drug and alcohol abuse was one of the strongest predictors of employment.
Eight to 10 months after release, 65 percent reported receiving financial support from a family member, spouse or friend, while only28 percent reported legal employment as a source. Eighteen percent had received public assistance, 15 percent got Social Security or Social Security Disability Insurance and 10 percent reported income from illegal activities.
At eight to 10 months after release, 70 percent said they sometimes or often had barely enough money to get by, 63 percent said they often had trouble paying their bills, and 59 percent reported worrying about how they were going to survive financially. Thirty percent had trouble keeping housing and another 30 percent had difficulty finding food for themselves and their families. since release. Fully 46 percent were burdened with debt. Twenty-four percent reported that their family had not provided the amount of support they had anticipated, and they were more likely than others to return to prison in the first year following release. About one in seven mothers (13 percent) reported having custody problems since release.
Some women also reported having high levels of conflict with their partners. While only a handful of women reported physical violence or threats, 39 percent reported frequent arguments and 27 percent complained of spousal controlling behavior. Nearly half of women with partners (43 percent) reported that their living mates had criminal records.
Eight to 10 months after release, 36 percent of the women interviewed in the study reported using illegal drugs or being intoxicated in the past 30 days. The most commonly used drugs were cocaine (22 percent) and marijuana (21 percent), with seven percent reporting daily cocaine use. Thirty-one percent of those reporting substance abuse in the past month estimated that they had been intoxicated or stoned on a daily basis during that period. On average, however, the severity of substance abuse among these women was lower after release than before prison.
Sixty-seven percent of the women reported that they had been diagnosed with some type of chronic health condition, with the most commonly reported illnesses being asthma (31 percent), back pain (30 percent) and high blood pressure (25 percent). Twenty-one percent reported having an infectious disease, including tuberculosis, hepatitis, HIV/AIDS and other STDs. Fifty-five percent reported diagnoses of depression and other mental health problems, and 27 percent were likely suffering from undiagnosed mental illness.
Thirty-two percent admitted having engaged in criminal activity, with the most common crime being drug possession (28 percent), followed by drug dealing (10 percent), auto theft (5 percent), petty larceny (4 percent), and assault (4 percent). Twenty-five percent returned to state prison or state jail within 12 months after release.
Those who participated in a pre-release program in prison or state jail were less likely to return, as were those with a high school education or GED. Those under post-release supervision were also less likely to return within a year's time. The likelihood of return to prison was also lower for those who felt their families were helpful during their reintegration.
The study shows that pre-release family conferencing is critical in both shoring up valuable family support systems and in minimizing the tensions and negative influences that are associated with family relationships. These conversations should include child care responsibilities and custody issues, living arrangements, and financial contributions to the household. They should also provide opportunities for returning prisoners to share their anxieties and personal challenges, to express remorse for past behaviors and to articulate the types of both tangible and emotional support they need from their families.