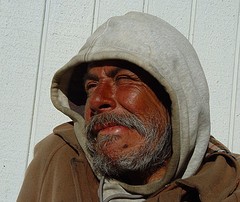 Early morning last Monday had seen faces that you wouldn't normally see at that hour fan out through downtown San Diego, as the volunteers had attempted to take a census of the society's disenfranchised. The effort is part of a national initiative to get better data about the homeless population so that help can be given to those most in need. The goal is to reduce the number of homeless on the streets by 100,000 between now and the middle of 2013.
Steve Schmidt brings us a moment from that morning in his latest post on Sign On San Diego:
Many of the homeless didn't mind being awakened for the questionnaire, which ranged from their level of education to whether they have a prison record.

'I think more people like to be heard, and (the homeless) don't get a lot of opportunities to be heard,' said Mitchell Clark, a clinician and case worker with Heritage Clinic in San Diego.
That makes perfect sense. When was the last time that you've engaged a homeless person in conversation? The social urge is a vital one for people, especially when it is frustrated by the barriers of perception. Schmidt writes,
A few people found the questions overly intrusive. One man crawled out of his tent, pointed to an ailing woman he was with and yelled, 'This survey you're taking, what good is it going to do her?'
Long-range gains are often outside of the expectations of the homeless. The immediacy of life on the streets takes precedence. Fortunately, the census takers had this in mind and showed up prepared:
Others became more willing to talk when they learned they would each get a $5 gift certificate for Jack in the Box if they participated.

[Robin] Munro [an attorney and one of the organizers of the census] said the predawn hours are considered the best time to get an accurate read of a transient population. She and the project's other coordinators plan to compile their registry by the end of the week.
As with all issues, accurate information is key to finding a solution. Campaigns like this one have already occurred in Los Angeles, San Francisco, Seattle, Chicago, and New York. Of course, information is only worthwhile if you act upon it. Experts, including the National Alliance to End Homelessness and the federal Interagency on Homelessness, point this out as well. Several studies put forth by these groups show that registries are effective when they work together with the programs that dispense housing, substance abuse treatment, mental health services, and other programs designed to help these people effect a return to society.
Source: "Volunteers start count of city's homeless," Sign On San Diego, 09/20/10
Image copyright Susan Madden Lankford, from the book "downTown USA: A Personal Journey with the Homeless." Used with permission.
Visit Us on Facebook: Humane Exposures Publishing , downTownUSA, Maggots in My Sweet Potatoes, It's More Expensive To Do Nothing