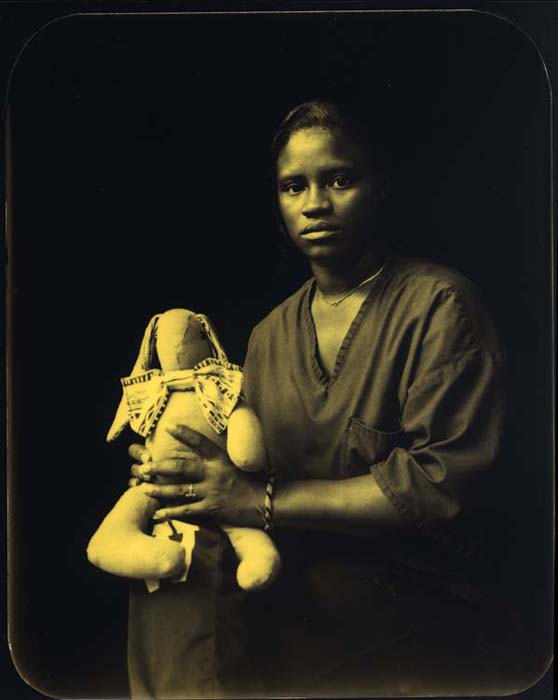 Deborah Luster has entered the world of rural Louisiana prisons with camera in hand, just like our own Susan Madden Lankford did, when shooting in California for her book, Maggots in my Sweet Potatoes: Women Doing Time. Luster's work in Louisiana prisons was also collected in a book, titled One Big Self. (It has received Book of the Year Award from the Louisiana Endowment for the Humanities.) While there are similarities between the two, Luster has started on this path due to a personal tragedy, as this excerpt from her bio on the Edelman Gallery website shows:
Murder is not generally a subject in which most artists find themselves immersed. But twelve years ago, Deborah Luster's mother was murdered, sparking a photographic project which led her to three different state penitentiaries in Louisiana, her home state, as a means of healing and understanding. Photographing inmates against a black backdrop or in the fields, Luster captures the individuals housed behind the barbed wire and prison cells in a project called 'One Big Self.' Cutting 5 x 4″ aluminum and coating it with a liquid silver emulsion, Luster creates images which serve as reliquaries for these men and women whose cockiness, youth, bravado and shyness are embedded in these pocket-sized contemporary tintypes. Through these images she asks us to 'see beyond their crimes… to suggest that our punitive models are as reflective of who we are as our reward system.'
That last sentence speaks volumes about the similarities between the two photographers. In their own ways, both have humanized the people who had been relegated to the limbo of mere statistics. The approach to their projects was quite a bit different though. Where Lankford's book contains an array of personal narritives transcribed from her discussions with prisoners, Luster used a different approach. She also talked extensively with the prisoners she had photographed, but, rather than using the exact words of the inmates themselves, she had relied on a poet to create the text based on these interviews.
I first ran across Luster's work at The Newcomb Art Gallery in New Orleans, and later at Prospect.1, also in New Orleans. Her method of presentation was fascinating, drawing on institutional themes to compliment the photos. The following video will give you a quick look at the Newcomb show, as Luster talks about her work and its presentation:
Since everything in Louisiana has a culinary angle, Luster has incorporated it into her work by photographing the kitchen staff at the Angola State Prison and the Louisiana Correctional Institute for Women. The Kitchen Sisters at NPR have interviewed Luster for their Hidden Kitchens series, while also working on a feature for NPR about One Big Self. Both pieces are well worth a look.
Source: "After Mother's Murder, Artist Photographs Prisoners," NPR, The Kitchen Sisters, 08/09/10
Source: "Deborah Luster's Hidden Kitchens," KitchenSisters.org, 06/30/10
Image courtesy of Deborah Luster and Jack Shainman Gallery, NY.
Visit Us on Facebook: Humane Exposures Publishing , downTownUSA, Maggots in My Sweet Potatoes, It's More Expensive To Do Nothing