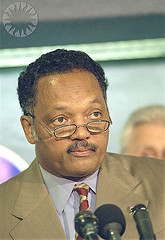 It is a fact of the modern, media-driven mentality that celebrities attract a lot of attention. This is frequently leveraged, where possible, to attract attention to causes of various sorts. Back in my home town of New Orleans, Brad Pitt is the resident champion of sustainable housing. Jerry Lewis has his famous telethon; Oprah consistently casts her spotlight on social issues, and so on.
Today, another celebrity is in the news as he tries to attract the eyes and the ears to the plight of the homeless — Jesse Jackson. Rev. Jackson will be spending the night in a homeless shelter in the San Francisco's Mission District.
Jackson observed the following in a statement to San Francisco's ABC 7 :
'Two things strike me when I come to the homeless shelter, the number of people who are working by day who live in the homeless shelter and the number of children in these shelters who in fact end up being disconnected from school,' said Jackson.
This is what we all need to keep in mind. This is not a partisan issue, it is a human issue. There is not an ounce of liberal or conservative agenda in the simple and chilling observation I just quoted. It was only yesterday that I was writing about the importance of staying in school.
There are many homeless people in the U.S. — and the numbers grow daily — who, while employed, have suddenly found themselves bereft of a roof. It could be a subprime home loan, accumulation of debt, or a variety of other factors, but the simple reality is that more and more everyday people are hitting the streets.
Jackson is a colorful character, and I am sure that his overnight stay will attract a lot of attention. I certainly hope that it helps. Every effort to raise awareness is important.
Source: "Jesse Jackson spends night in homeless shelter," ABC 7 San Francisco, 10/26/10
Image by PublicResource.org, used under its Creative Commons license.
Visit Us on Facebook: Humane Exposures Publishing, downTownUSA, Maggots in My Sweet Potatoes, It's More Expensive To Do Nothing.