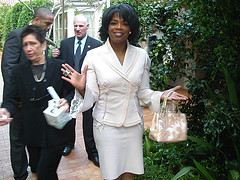 Oprah Winfrey has become a household name, there is no mistake about that. Over the course of her career, she had experienced success in a wide variety of arenas ranging from the big-screen movies to her rightfully famed talk show. This is exactly why we feel that she should revisit the topic of homelessness in the U.S.
This would be familiar territory, after all. In June 2009, Lisa Ling did a special report on tent cities in Sacramento, CA., that helped put a human face on the issue. [Video: "Lisa Ling Goes Inside a Tent City"]
While it has only been 15 months since Ling's report, in those 15 months we have experienced major housing and economic upsets — the circumstances that have created a huge influx of new faces on the streets. There are also new initiatives popping up across the country that attempt to find ways to reintegrate the homeless back into society. (Back On My Feet is only one of many examples.) In addition, there have been disasters such as the BP oil spill and the recent wildfire in Colorado that have contributed their own brand of socioeconomic chaos to the mix.
On "Inside a Tent City," Ling presents a number of interviews with those who were living in the tent city at the time, such as this one with a woman named Tammy:
Tammy is a 47-year-old who says she has been living with her husband in this tent city for a little less than a year. 'My husband's job fell through,' she says. 'He was a tile setter … [but people] weren't buying houses anymore, and there was no need for tile setting. We lost our car and our home, our apartment. We lost everything we had.'

Though Tammy and her husband are both actively looking for work, they say it feels impossible in this economy. 'That's where we're going this morning,' she says. 'To get cleaned up and go out and try to make our best appearance.'

The hardest part about living in a tent city is losing the everyday amenities most people take for granted, Tammy says. 'Taking a shower when I want, walking into my bathroom, turning the light on. Fixing my hair and doing my makeup,' she says. 'I miss looking like a girl.'
It's one of those things that often slides past notice. Without regular access to a shower and other amenities, it is hard to pull oneself out of the homeless situation once one has fallen into it. Even if you are dead sober, skilled, and willing to work, it rapidly becomes hard to make yourself presentable for a job interview, especially in these tight financial times.
Shortly after Ling's work aired, the tent city was shut down by the city of Sacramento. The time since then has been filled with tumultuous changes on all levels of society. We believe that this alone makes it a topic worth returning to. So many people follow Oprah's work that putting this in front of them will go a long way towards raising the awareness needed to effect change.
So please, Oprah, cast your attention once more to the plight of those who inhabit the streets of our country. There are more of them every day. You have the ear of the world.
Source: "Inside a Tent City- A Lisa Ling Special Report," Oprah.com, 06/19/09
Source: "Lisa Ling Goes Inside a Tent City," Oprah.com, 02/23/09
Image by Alan Light, used under its Creative Commons license.
Visit Us on Facebook: Humane Exposures Publishing , downTownUSA, Maggots in My Sweet Potatoes, It's More Expensive To Do Nothing