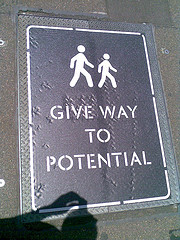 Most people just walk right by the homeless. People living on the street are often viewed as the detritus of society, failed lives with no potential for betterment. Not to say that everyone feels this way, but there is a large segment of the population that does.
Just as with any other segment of the population, this sort of generalization is incorrect. This is especially true of the children, more of whom are living on the streets every day. A child is not responsible for his or her situation, and children are the embodiment of potential.  The ability to realize that potential is harshly curtailed when one is homeless. Still, there are those who manage to triumph over the odds stacked against them.
Sarah Auffret, who writes for the Arizona State University News, brings us one such story, the story of an amazing young woman named Mona:
When she and her mother had to sleep on the street, Romonia 'Mona' Dixon would pull out a bag of books she brought home from elementary school and read by the street light. She'd cover up with her mother's jacket and pretend she was one of the characters in a book, and it made her feel safe.

That was just a few years ago, on the nights when the homeless shelters in San Diego were full. When she was 10 they moved to Tempe, where they continued to live in shelters until the family got into public housing.
Now, seven years later, Mona is a freshman residing in Barrett, the Honors College. She was literally one amongst thousands in the running for the National Youth of the Year award given by the Boys & Girls Clubs last fall, and has accrued over $100,000 in scholarship funds. We'd say this indicates potential. Vast potential.
In this era of financial chaos, you never know who it is you walk past as that person settles down for the night on a street corner. Amazing talents and potential are almost certainly being squandered due to the simple lack of opportunity.
Source: "Student overcomes homelessness to achieve, inspire others," Arizona State University News, 10/07/10
Image by M0les, used under its Creative Commons license.
Visit Us on Facebook: Humane Exposures Publishing , downTownUSA, Maggots in My Sweet Potatoes, It's More Expensive To Do Nothing