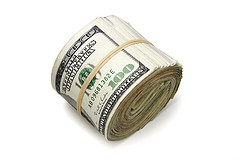 The economic side of the penal system is something we look at a lot. In so many cases, the return of preventative programs vastly outstrips the return we see from imprisoning people. Our documentary is titled It's More Expensive to Do Nothing because that is, quite simply, the case.
Of course, there are also darker sides of the economic angle that bear scrutiny. When we speak of the economic factors, we are talking about ways in which to spend less and achieve better results. For some others, it is a matter of how much can be made from the business of incarceration.
Laura Sullivan has a very illuminating piece on NPR (you can read it or listen to the audio) focusing on this very subject. She takes a look at the spiderweb of business interests that stand to reap serious financial gains from Arizona's new immigration law. [Note: this is not a debate about the law itself, but an examination of the way in which the prison industry has influenced the letter of the law for its financial gain. Comments debating immigration law will be considered off topic and not published.]
While there has been both forceful opposition and support for the law, it would behoove both sides to look closer at the way the law came about. NPR did some digging:
NPR spent the past several months analyzing hundreds of pages of campaign finance reports, lobbying documents and corporate records. What they show is a quiet, behind-the-scenes effort to help draft and pass Arizona Senate Bill 1070 by an industry that stands to benefit from it: the private prison industry. The law could send hundreds of thousands of illegal immigrants to prison in a way never done before. And it could mean hundreds of millions of dollars in profits to private prison companies responsible for housing them.
What follows is a hard look at the influence of lobbyists. It starts with the Arizona State Sen. Russell Pearce, who claims the bill was his idea. His stated stance is that Americans need to look at the cost of not enforcing our laws and securing the border. The interesting part is that instead of bringing his idea up on the Senate floor, he instead brought it to a meeting of a group called the American Legislative Exchange Council (ALEC) that took place last December at the Grand Hyatt in Washington, D.C.
If you look at the composition of the group, an interesting picture develops:
It's a membership organization of state legislators and powerful corporations and associations, such as the tobacco company Reynolds American Inc., ExxonMobil and the National Rifle Association. Another member is the billion-dollar Corrections Corporation of America — the largest private prison company in the country.
Both members of the Corrections Corporation of America and Pearce are not only members but also sit on several of ALEC's boards. Model legislation was developed at the Hyatt, legislation that was adopted almost verbatim four months later. Pearce claims that even though lobbyists were in attendance, he did not go to meet with them, but rather to meet with other legislators:
Pearce may go there to meet with other legislators, but 200 private companies pay tens of thousands of dollars to meet with legislators like him.

As soon as Pearce's bill hit the Arizona statehouse floor in January, there were signs of ALEC's influence. Thirty-six co-sponsors jumped on, a number almost unheard of in the capitol. According to records obtained by NPR, two-thirds of them either went to that December meeting or are ALEC members.

That same week, the Corrections Corporation of America hired a powerful new lobbyist to work the capitol.
This is an economic angle that we need to watch. There is no way to fight the bloating of our prison system without realizing that this is big business. There are so many jobs and so much money wrapped up in the penal system that it's truly frightening. The approach to imprisonment being taken in Arizona and many other places seems to view an increase in the number of people incarcerated as a good thing, since, after all, it creates jobs and salaries. The fact that it costs taxpayers far more than the alternatives does not enter into that kind of logic.
This is not merely a problem in the areas near the border when immigration is such a massive issue. On the first of last month, I wrote about the astounding and disturbing state of affairs in Canon City, CO, the town with 13 prisons. Just to put it into perspective, Canon City has 36,000 residents, which makes it roughly one prison per 2,700 people. Sounds like big business to me, especially since one of those 13 is the Supermac, the new "Alcatraz of America."
It does not matter whether this happens in Arizona, Colorado, or some other state. The fact remains that we have 5% of the global population and roughly a quarter of the world's incarcerated here in the U.S.A. If the trend of embracing the corrections system as a revenue-generating business continues, those numbers will become even more out of balance.
So, as the prison system in Arizona hits a major growth spurt, I'd like to leave you with two short quotes to keep in mind:
'When we provide treatment, we can cut recidivism rates down 25, 35, sometimes 40 percent.'
— Douglas B. Marlowe, J.D., Ph.D., Chief of Science, Policy and Law, National Association of Drug Court Professionals
and
'It makes long term economic sense to try and take care of these people in a humane way, and help them heal.'
— Bruce Perry, M.D., Ph.D., Senior Fellow, Child Trauma Academy
Source: "Prison Economics Help Drive Ariz. Immigration Law," NPR, 10/28/10
Image by AMagill, used under its Creative Commons license.
Visit Us on Facebook: Humane Exposures Publishing, downTownUSA, Maggots in My Sweet Potatoes, It's More Expensive To Do Nothing.