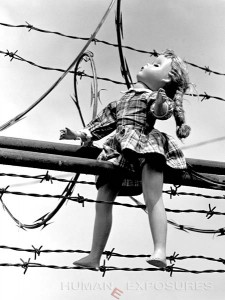 A  report card that examines the treatment of mothers and pregnant women in prison has been issued recently, and several states are none too happy about the grades they've received. (California scored a cumulative "C-" in case you are curious.)
Here is a link to the PDF version of the report, which was issued by the National Women's Law Center and the Rebecca Project for Human Rights: "Mothers Behind Bars: A State-by-State Report Card and Analysis of Federal Policies on Conditions of Confinement for Pregnant and Parenting Women and the Effect on Their Children."
For those of you short on time, here is an excerpt from the Executive Summary:
There are now more women behind bars than at any other point in U.S. history. Women have borne a disproportionate burden of the war on drugs, resulting in a monumental increase of women who are facing incarceration for the first time, overwhelmingly for non-violent offenses. This rampant incarceration has devastating impact on families. Most of these women, unseen and largely forgotten, are mothers. Unfortunately, pregnant women, incarcerated women and their children are subject to federal and state correctional policies that fail to recognize their distinct needs or honor their families.

The Rebecca Project and the National Women's Law Center collaborated on this Report Card, which analyzes federal and state policies on prenatal care, shackling, and alternative sentencing programs and grades states on whether their policies help or harm incarcerated women in these key areas. This effort is intended to help advocates assess their own state's policies affecting these significant phases of pregnancy, labor and delivery, and parenting.
The state of California received a "C" in prenatal care, a "B" on shackling policies, and an "A" on the family-based treatment as an alternative to incarceration. The last one is a heartening statistic to see, since that sort of program has the highest chance of reducing recidivism, and also radically reduces the costs at the state level. Other states fared far worse. George Prentiss, a reporter for the Boise Weekly, reports that his state received a "D" in prenatal care, a "D" on shackling policies, and an "F" on the family-based treatment.
Gene Park of the Star Advertiser reports from Hawaii, a state that received a flat-out "F" on the subject of prenatal care:
Most states fared poorly on the report. Only one state, Pennsylvania, received an overall grade of A. Including Hawaii, 27 states received an F grade for prenatal care.
Well over half of the states in the U.S. got an "F" on prenatal care. Think about that for a moment. No matter what view you might have of these women, the bottom line is that the unborn children of inmates are not responsible for where they are. Even if they were, this sort of treatment drastically affects these children, as they grow into adults. Twenty-seven states. We should be ashamed.
Park writes:
The report states more than 115,000 were in prison as of 2009, and that figure is rising at a higher rate than that of men since the introduction of mandatory sentencing policies for drug offenses.
Kat Brady, a coordinator for the Community Alliance on Prisons, told the Star Advertiser that over 80% of the women incarcerated in Hawaii have been convicted on non-violent offenses. Quite often, these same women have a history of substance abuse or physical abuse, she added.
Source: "Report: Idaho Fails to Provide Proper Treatment for Pregnant Inmates," The Boise Weekly, 10/21/10
Source: "Pregnant isle inmates allegedly treated shabbily," The Star Advertiser, 10/22/10
Image copyright Susan Madden Lankford, from the book "Maggots in My Sweet Potatoes." Used with permission.
Visit Us on Facebook: Humane Exposures Publishing, downTownUSA, Maggots in My Sweet Potatoes, It's More Expensive To Do Nothing.