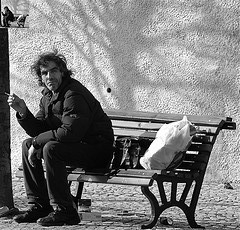 Yesterday, we wrote about a survey of the homeless being conducted in Downtown San Diego. The Downtown Partnership and the Common Ground have teamed up to register the homeless in order to better identify and service their needs.
Meanwhile, Uptown, Todd Gloria, the chair of the City Council's Land Use and Housing subcommittee, which studies homelessness, has his eye on the project. Here are some of the comments of Gloria's, who also serves as the District 3 Councilmember, as reported by Christy Scannell of the San Diego News Room:
Gloria said he will be monitoring Registry Week as a possible solution for addressing homelessness in Uptown neighborhoods.

As downtown develops, the homeless are driven to Uptown and Balboa Park,' he said. 'As we find models that work in downtown I want to do what I can to bring those models [to Uptown] because we are the natural inheritors of those problems.'
That seems very forward thinking. Being aware of these sorts of factors is vital to finding solutions to them. The enthusiasm seems to wane though when it comes to the question of funding — should it be decided that a similar survey is required Uptown. Scannell reports:
When asked if he thought the Hillcrest Business Association, like Downtown Partnership, would fund a Registry Week for Uptown, its executive director Benjamin Nicholls was quick to say no.

'It's the role of business associations to help the businesses grow and that's what we're doing in Hillcrest,' he said. 'I don't think it's the role of business associations to become social service providers.'
Of course, this still comes down to a matter of implementation once the data is collected. Much like a dusty book in the back shelf of a library, if unseen, the information is useless. Proper coordination with treatment services and other resources is absolutely vital for success. We hope that as the possibility of a survey Uptown is considered, the spectrum of social services needed to effectively help those on the streets is also considered.
Source: "Homeless survey could become Uptown model," San Diego News Room, 09/20/10
Image copyright Susan Madden Lankford, from the book "downTown USA: A Personal Journey with the Homeless." Used with permission.
Visit Us on Facebook: Humane Exposures Publishing , downTownUSA, Maggots in My Sweet Potatoes, It's More Expensive To Do Nothing