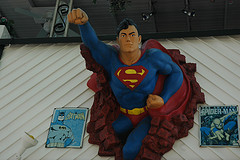 HUMANE EXPOSURES would like to salute Davis Guggenheim. The director on An Inconvenient Truth has a new film out, and he is hoping that it will spark a dialogue about education in the same way his prior film has generated debate about climate change. Waiting For Superman is nothing less than an S.O.S. on behalf of our school systems nationwide. A call for awareness and action on this subject which affects us all.
It all started earlier in the year when Guggenheim and his wife decide to visit an obviously ailing school that they passed every morning while taking their child to her school. Why did he do it? Alison Gang, San Diego native and movie critic for Sign On San Diego, reports:
So why visit a school that his kids don't even attend? 'Superman' makes the point that failing schools are everyone's problem, even if your family has options or you don't have children at all. But, Guggenheim argues, the system can't be changed unless the public demands reform, which is exactly what he aims to inspire with his film.

'I think there's a series of often unspoken reasons that we give ourselves not to care, not to open our hearts to this,' he said. 'I want to puncture this kind of disconnect. That's what a movie should do, connect all the dots and get people to go, 'Oh, it's real. This affects me.''
This s exactly what we hope to do with our own documentary, It's More Expensive To Do Nothing. Public awareness and dialogue are essential to effecting any substantive change no matter whether you are addressing education as Guggenheim is, or homelessness and the penal system as we have. Without that essential engagement — there is no pressure to produce change. Fortunately, it would seem that Guggenheim's effort is getting some legs under it:
Whether 'Superman' will start the wave of massive reforms necessary to turn a notoriously intractable system on its head remains to be seen, but it has already earned a nod from Oprah Winfrey, who dedicated an entire show to the film, and it won the Audience Award at the Sundance Film Festival.
With Oprah's powerful reach behind it, this film will get a lot more attention. Step one is always getting people to see it so that it can motivate them to explore the topic further and hopefully take action.
Of course, anything that digs deeply into the long-established policy is bound to get a backlash. In this instance, the film's stressing of educational accountability is, shall we say, less than popular with the teacher's unions. Gang writes:
Less than pleased with the film are the teachers unions, which take issue with the film's stance against automatic tenure and lack of teacher accountability. Taking on the normally taboo topic was a difficult decision for Guggenheim, a lifelong Democrat whose father brought him up to believe strongly in unions. 'But that's why you make documentaries. To say things that no one wants to say and to make people face uncomfortable truths.' He smiles, 'Not inconvenient truths, but uncomfortable ones.'
Uncomfortable truths are important. It is when we face these and deal with them that we mature, both as individuals and as a society.
Documentary film fans should visit the homes of both films on Facebook: Waiting For Superman and It's More Expensive to Do Nothing. Each covers a different aspect of the overall problem our society faces — providing proper support for children as they grow up in order to help them be productive members of society. Our film looks at the prison system and makes a great followup to Superman as it explores the frequency with which the issues Guggenheim examines impact those children in later life.
Source: "Guggenheim knows he isn't 'Superman'," Sign On San Diego, 10/08/10
Image by emilydickensonrisdesabmx, used under its Creative Commons license.
Visit Us on Facebook: Humane Exposures Publishing , downTownUSA, Maggots in My Sweet Potatoes, It's More Expensive To Do Nothing