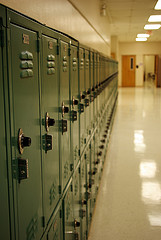 So many issues trace back to childhood. The opportunities, the lack thereof, early life traumas, and all the other factors that can impinge on early life, create the building blocks from which the adult is sculpted. Educational opportunities are particularly key, especially during the early years when the mind is so hungry for knowledge.
The Constitution of the State of California guarantees free education. In 1984, the state Supreme Court handed down a decision that refined the legal interpretation to include extracurricular activities offered by public schools. It is an interpretation that the ACLU claims many schools are ignoring.
Tanya Sierra, a staff writer for Sign On San Diego's Watchdog blog, tells us more:
This month, the ACLU wrote to the San Diego Unified School District in response to a report by The Watchdog that highlighted how fees for uniforms, spirit packs, gym clothes, cheerleading outfits and other items persisted despite a district policy saying such charges violate the state Constitution's guarantee of free schooling.
[If you'd like to read the letters the ACLU sent to Poway, Grossmont and San Dieguito school districts there are downloadable PDFs of them on the same page as the Watchdog article.]
Corey G. Johnson, a reporter for CaliforniaWatch who specializes in K-12 education, notes that this is not a fresh issue. He has been reporting on it since early this year:
As we wrote in February and in June, numerous instances of school districts disregarding this law has surfaced. Earlier this month, ACLU legal director David Blair-Loy sent the San Diego Unified School District a letter asking for officials to stop several examples of 'pay to play' that were found at local schools. The group also asked for the money collected to be refunded to the parents.

The request followed a San Diego Union-Tribune investigation that found schools openly charging fees on their websites, despite a recent local grand jury investigation that slammed the practice.

San Diego superintendent Bill Kowba agreed that the practice was wrong and said the district will cease charging the fees and offer refunds where appropriate.
Situations like these need to be brought into legal compliance. The socialization entailed by extracurricular activities is an important part of childhood development, and access to them is already protected by law.
Source: "ACLU takes school fee effort north and east," Sign On San Diego Watchdog blog, 08/18/10
Source: "More schools accused of pay-to-play catch ACLU's gaze," California Watch, 08/23/10
Image by House of Sims, used under its Creative Commons license.
Visit Us on Facebook: Humane Exposures Publishing , downTownUSA, Maggots in My Sweet Potatoes, It's More Expensive To Do Nothing