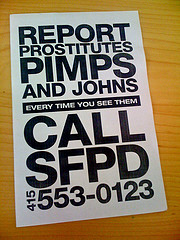 There are many paths taken by those on the streets. For an unfortunate number of pople, one of those paths is prostitution, and they get started at an earlier age than some of us would think.
In addition, there is another sad aspect to this situation, the human trafficking angle. While some of those turning tricks on the street came to that due to homelessness — the stereotypical runaway comes readily to mind — others are kidnapped from their homes and press-ganged into service.
Let's take a look into that world for a moment, by looking at this video produced by the Press-Telegram of Long Beach, CA:
Sad and disturbing, like so many examples of the societal breakdown. Twelve years old? I don't know about you, but I was shocked by that. In addition, I found the comparison of the pimp/prostitute relationship to the classic abusive household's dynamic to be most interesting.
The problem is not going away, nor are any of its aspects. Only recently, three men were sent to jail for sexual exploitation of a child and sex trafficking of children right here in San Diego, as reported on San Diego 6:
According to evidence presented at trial, they picked up the 14-year-old at a restaurant on El Cajon Boulevard in San Diego and drove her to Oceanside, where she was forced to pose for explicit photographs so 'johns' could be solicited to engage in commercial sex acts with the child.

The teen was able to escape from the motel room and run to a nearby convenience store to call 911.
Many, many more do not escape. Whether it's a victim of trafficking or simply someone trying to get off the street, the plight of these poor girls is one that is most certainly worthy of examination. So many of the social ills we examine are intertwined. Violence, homelessness, poor education, people preying on other people, the broken prison system, etc., all demonstrate the interconnected nature of societal problems.
Source: "Man Sentenced for Abducting Teen in Prostitution Scheme," San Diego 6, 09/13/10
Source: "Human trafficking's misery hits home," Press- Telegram, Long Beach, CA, 09/04/10
Image by CommandZed, used under its Creative Commons license.
Visit Us on Facebook: Humane Exposures Publishing , downTownUSA, Maggots in My Sweet Potatoes, It's More Expensive To Do Nothing