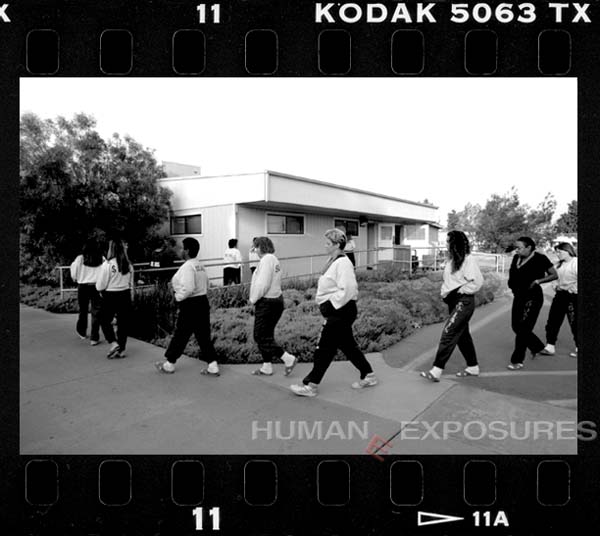 It is no secret that the American prison system is rife with problems. It is the personal stories of women in our penal system that led our own Susan Madden Lankford to create Maggots in my Sweet Potatoes: Women Doing Time, in which she juxtaposes black-and-white images taken in jails with quotes and personal narratives from the incarcerated.
This window into the incarcerated life, its hardships, and its social ramifications, is especially important in the modern day, a day when our penal system is bursting at the seams. David C. Fathi, director of the ACLU National Prison Project in Washington, D.C., attributes this to the "Three Strikes" laws and other mandatory minimum-sentencing laws. He asserts that the overly harsh sentencing is responsible for not only causing the prison population to skyrocket, but is also culpable for the fact that approximately one in 11 of the imprisoned are there for life.
There are many aspects to this breakdown. Craig Welkener of AOL News brings us some of the disturbing facts in his recent opinion piece on the subject. Take particular note of the last two items, which directly affect imprisoned females:
The problems with today's prisons are well documented. Conditions are deplorable. Here are a few facts:

Federal prisons are being operated at 160 percent capacity. Mandatory minimum sentences are putting thousands of nonviolent offenders in prison, for disproportionately long terms.
Approximately two-thirds of prisoners released each year will be back behind bars in some form before three years have passed.
Mental health care is woefully inadequate.
Prison rape is a moral outrage rampant across America. More than 60,500 inmates reported sexual abuse in 2007 (the actual number of rapes is likely far higher), and nearly 1 out of every 8 juveniles in custody became a victim of sexual assault from 2008 to 2009, according to a Department of Justice study.
Most states still allow the shackling of women during labor and delivery, often causing permanent scars. This unnecessary and humiliating procedure is opposed by the American Medical Association, the Rebecca Project for Human Rights and virtually anyone else who knows about it.

In short, the system is not working.
Those last two items in particular seem like something from the Middle Ages, yet they are faced daily in modern America. All of the factors listed by Welkener contribute to the additional trouble that former inmates have in reintegrating themselves back into society.
Take a look inside these walls, a bracing look at fellow humans fighting circumstances that dehumanize: Take a look at Maggots in my Sweet Potatoes: Women Doing Time. Unfiltered and presented in the words of the jailers and the imprisoned, it will take you into the chiaroscuro world of the female inmate, a world never seen before in quite this way.
Source: "Opinion: Why Obama Should Take on Prison Reform," AOL News, 08/17/10
Image copyright Susan Madden Lankford, from the book "Maggots in my Sweet Potatoes: Women Doing Time." Used with permission.
Visit Us on Facebook: Humane Exposures Publishing , downTownUSA, Maggots in My Sweet Potatoes, It's More Expensive To Do Nothing