Susan Madden Lankford wrote a profound book about female incarceration in 2008 that still resonates today. The product of more than two years' photographing and interviewing in a typical women's jail, the book combines 326 powerful black-and-white photographs with the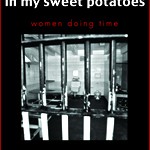 frank and graphic voices of both the jailed and the jailers, presenting us with a cogent portrait of diffused lives, and a reflective glimpse of emotional and physical imprisonment. Quotes from experts in the fields of justice, rehab, and mental health add depth to the picture, building the case that changes in American society, including neglect and abuse of our youth, contribute to the overloading of our detention system and the brutal cycle of institutionalization. well as the consequences of homelessness, to examine a system that offers no viable safety net for the denizens of our streets, and to seek solutions that will create a better future for society as a whole.
In selecting the book as Web Pick of the Week, Pulisher's Weekly wrote:
Through photographs, interviews, statistics and other exhaustive research, photographer and author Susan Madden Lankford captured from all angles the experience of women inmates confined to a typical jail in San Diego County. Interviews with jail officials, from deputies to counselors to directors, revealing exhausted, often jaded individuals who lack the resources to do their jobs properly.One deputy says that ""98 percent of inmates have drug histories,"" but funding levels barely keep inmates in food and housing, much less rehab programs. As such, California's ""three strikes"" law sends women to jail for life without ever offering them a chance at getting clean.

Kristina Edwards came to jail pregnant on charges ranging from kidnapping to attempted murder, crimes she claimed she was too high to recall even being involved with. Lankford follows her progress, like other inmates', with care and compassion. Delivering her baby chained to a hospital bed, Edwards becomes a symbol of the cycle in which she's trapped, a fate often presaged by parental abandonment and neglect. Informative, frank, relentless and disturbing, the book's strong voices and stark format-black and white photos, transcribed Q&As, pull-quotes from subjects and experts-are completely absorbing, raising important questions about why women end up in jail and, too often, keep coming back.
The book garnered several honors, including: the Eric Hoffer Book Awards grand prize, DIY Book Festival's "Best Book of the Year," Independent Publisher Book Awards' gold medal/women's issues and ForeWord Magazine's silveraward/social Science and bronze award/women's issues.
Richard Rhodes, author of the Pulitzer Prize winning THE MAKING OF THE ATOMIC BOMB wrote:
Our prison systems are fortresses of involuntary servitude, jails their revolving doors. Susan Lankford has sought out the invisible human beings caught in those doors, made them visible, and allowed us to hear their stories and begin to know them. MAGGOTS IN MY SWEET POTATOES is a work of profound humanity. May it also be a harbinger of change.