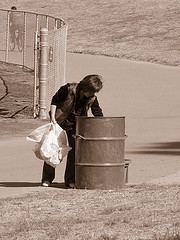 We live in an amazing age, the age of information, which has a direct and palpable impact upon the issues we try to address. One great example is homelessness, a major focus of the works we produce. Not only is social media an excellent tool for educating the populace about the problem, but it can also give a voice to those who are experiencing it.
Mark Horvath is the premier example of this in action. A little more than 15 years ago, he was homeless himself. Then he stopped drinking alcohol and managed to pull himself out of it. Now he leverages social media to give a voice and a face to the homeless, particularly through YouTube on his channel, the InvisiblePeople.tv.
Christie Garton interviewed Horvath for her USA Today's "Kindness" column, after his second of the two cross-country road trips shooting video with the homeless (made possible by the Pepsi Refresh $50,000 grant and a car provided by the Ford Motor Co.).
Garton asked about the reasoning behind Horvath's use of video in general and YouTube in particular:
Kindness: Why did you choose video as the medium for this message?

Horvath: Video changes the perceptions of homelessness. Non-profits traditionally only share success stories, and people end up detached from them. I wanted to show the truth. I also have a gift for video, and just felt like this was the right way to go even if I didn't have the right hard drive or editing software. Who knew that so many people would want to watch videos about the homeless?

Kindness: Why did you choose YouTube as the platform?

Horvath: YouTube has a mobile application, which is great as 25% of our videos are being watched by phone. YouTube is also non-profit friendly, and has a partners program specifically for non-profits which allows you to raise money through donations and will feature your work on occasion. If fact, they featured us on the homepage for a day, and we surpassed 2 million views. It's also a community with it's own social network, which unfortunately, I haven't had time to tap into.
Putting a face on the problem is vital, and it's integral to our own efforts here (take a look at downTownUSA as an example). Here is the latest of Horvath's videos, an interview with Kerry, Sabrina and Keifer taped in Dayton, Nevada. Horvath first met Kerry and his family months ago through Twitter (Kerry: @alleycat22469,  Sabrina: @bully_lover78, and 13 year-old Keifer: @keifer1122). On his blog, Horvath writes:
As I think about this family I get emotional. I cannot imagine raising a child in a small RV with no bathroom or running water. This family's life is far from easy, but together they keep fighting, and together they stay grateful for the little things.
Being a native of New Orleans, I can understand the cramped-quarters aspect of their personal shelter. Five years after hurricane Katrina and the levee failure, and I still know families that are crammed into FEMA trailers about this size. While this family is lucky in that they are not actually sleeping on the streets, any thought that things are easy for them should be dismissed immediately.
I'd like to add our voice to Mr. Horvath's call to action from this blog post:
If you know of anyone in or near Carson City, Nevada, that can help Kerry find a job please contact them. He wants to work. They will hopefully have housing soon, but the battle is far from over.
The fact that Horvath has been able to effect actual change through his efforts is heartening. Several people he has interviewed during his road trips now have roofs over their heads, or jobs, or both. Every one of those instances is a success.
Source: "Former homeless man using YouTube to give voice to homeless," USA Today, 10/05/10
Image by Franco Folini, used under its Creative Commons license.
Visit Us on Facebook: Humane Exposures Publishing , downTownUSA, Maggots in My Sweet Potatoes, It's More Expensive To Do Nothing