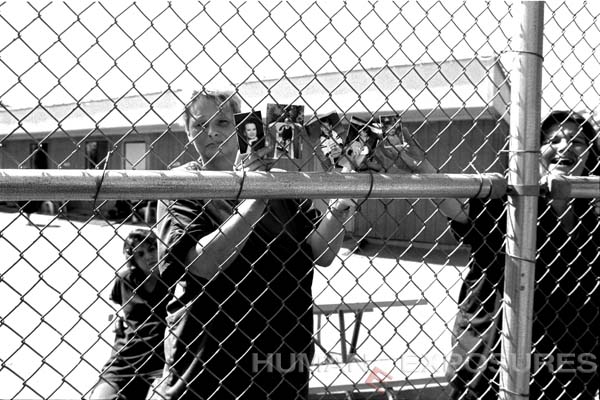 One of the persistent issues in the American penal system is that it is massively overcrowded. A plethora of reasons for this abounds, as a simple Google search will show. The solutions have been in shorter supply.
Graeme Wood, a contributing editor for The Atlantic magazine, has a very interesting column in the September issue (available to us now courtesy of the magazine's website). In it, he looks at the concept of "turning prison inside out" by using electronic surveillance. For those of you who recall the ankle unit worn by Martha Stewart after her trial, that is the kind he talks about.
Should we bring more inmates out of prisons and into society — if they can be properly monitored with an ankle device? Will this have a positive, tangible effect on recidivism? On prison overpopulation? As crime rates have gone down, the average sentence term has grown longer, leaving our penal system overloaded with inmates.
This would not be as large of an issue if inmates were reformed. Unfortunately, that is rarely the case, as Wood notes:
But that isn't the case either: half of those released are back in prison within three years. Indeed, research by the economists Jesse Shapiro of the University of Chicago and M. Keith Chen of Yale indicates that the stated purpose of incarceration, which is to place prisoners under harsh conditions on the assumption that they will be 'scared straight,' is actively counterproductive. Such conditions — and U.S. prisons are astonishingly harsh, with as many as 20 percent of male inmates facing sexual assault — typically harden criminals, making them more violent and predatory. Essentially, when we lock someone up today, we are agreeing to pay a large (and growing) sum of money merely to put off dealing with him until he is released in a few years, often as a greater menace to society than when he went in.
It would seem that finding alternatives to incarceration makes good economic sense. Could the use of devices like this allow us to ease the pressure on our strained-to-bursting jails and prisons? Wood outlines a tripod of benefits from using the tracking devices, summed up at the end of the following excerpt from his article:
Devices such as the ExacuTrack, along with other advances in both the ways we monitor criminals and the ways we punish them for their transgressions, suggest a revolutionary possibility: that we might turn the conventional prison system inside out for a substantial number of inmates, doing away with the current, expensive array of guards and cells and fences, in favor of a regimen of close, constant surveillance on the outside and swift, certain punishment for any deviations from an established, legally unobjectionable routine. The potential upside is enormous. Not only might such a system save billions of dollars annually, it could theoretically produce far better outcomes, training convicts to become law-abiders rather than more-ruthless lawbreakers. The ultimate result could be lower crime rates, at a reduced cost, and with considerably less inhumanity in the bargain. [Emphasis ours.]
It is a good argument, and Wood presents a lot of upsides to the approach. Still, there are also all the issues endemic to a surveillance society a well. An argument could be made that this is a slippery slope, with the increasing usage possibly hiding just below the horizon.
As it happens often with social justice issues, benefits must be weighed against the more Orwellian factors when considering this situation. Which side do you find more logical? Let us know, leave a comment!
Source: "Prison Without Walls," The Atlantic, 09/10
Image copyright Susan Madden Lankford, from the book "Maggots in my Sweet Potatoes: Women Doing Time." Used with permission.
Visit Us on Facebook: Humane Exposures Publishing , downTownUSA, Maggots in My Sweet Potatoes, It's More Expensive To Do Nothing