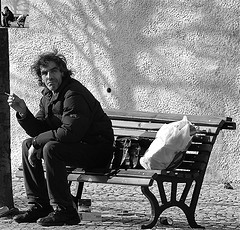 There are many social obstacles for the homeless. Things that we take for granted in our day-to-day lives may suddenly become seemingly insurmountable problems. In many cases, it can turn out to be something no one thinks of.
One example is the issue of identification. Most of us, at one point or another, have had to replace a lost ID. It is never a fun process. Now imagine how much worse it would be if you did not have a home or copies of the paperwork required to get a new ID. Suddenly, the possibility of a job is out of reach, the ability to cash a check is lost, and so many other aspects of modern society become inaccessible.
As we watch the numbers of the homeless swell during the nation's economic woes, we are also seeing some interesting responses to their plight. Since modern society makes carrying ID essential for conducting one's normal day-to-day affairs, the idea of an ID Clinic seems almost inevitable.
The first instance of an effort to assist the homeless with the paperwork required for daily life is the brainchild of Jacqueline Dowd, who founded IDignity in Central Florida. The project aims at navigating the paper trail along with the homeless, making sure that the correct forms are filled, and providing advice and guidance through the process.
Here's a partial description of the program from the IDignity website:
Volunteers will serve in a wide variety of roles including: introducing the process to clients, filling out forms for clients, assisting agencies or shepherding clients through the process. Interestingly, most of the volunteers leave these events feeling that they have been served themselves and regularly return with a desire to do more. It is estimated that in order to continue the program through 2010 it will cost an average of $12,000 per event.

The documents that IDignity provides are required to apply for employment or school, obtain access to most shelters, vote, seek help from many social service programs, open a bank account or cash a check, secure housing or overcome many other obstacles to becoming self-sufficient.
Below is a short video interview with Jaqueline Dowd conducted by Mark Horvath. If you are unfamiliar with Horvath, he, formerly homeless himself, has developed InvisiblePeople.tv to give a face to the issue of homelessness. Horvath also writes regularly for The Huffington Post on the subject.
The lack of identification can be like a brick wall, confining a person to the areas outside of normal society. Effectively imprisoned, these people cannot interact with our communities in most of the ways needed for them to pull themselves back into mainstream culture. With more people becoming homeless at a frightening rate, in this increasingly documentation-oriented age, ideas like this need to be explored.
Does it prove effective? The Mayor of Orlando thinks so (from the IDignity website):
'One of the biggest challenges for the homeless is lack of a personal identification card. The IDignity program is helping more than 200 people per month gain that ID which links them to critical services. It's been so successful other Florida communities are borrowing our model.' — Orlando Mayor Buddy Dyers State of the City address on February 18, 2010.
What are your thoughts? Had this aspect of the homeless condition escaped you until reading this? Let us know!
Source: "Without Identification, People Can't get off the Streets," The Huffington Post, 08/15/10
Image by pedrosimoes7, used under its Creative Commons license.

Visit Us on Facebook: Humane Exposures Publishing , downTownUSA, Maggots in My Sweet Potatoes, It's More Expensive To Do Nothing